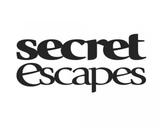 Global Key Account Manager - Hotel Chains
We are looking for a highly driven and professional travel enthusiast to join our Contracting Team as a Global Key Account Manager - Hotel Chains. You will be responsible for managing our relationships with some of the largest EMEA-based Hotel Groups. The client portfolio will span EMEA and as such will be your responsibility. Reporting into the Contracting Leadership team, you will be responsible for building and maintaining strategic relationships with key partners and drive commercial growth in all Secret Escapes regions via improved value of our key hotels relationships.
About Secret Escapes
Secret Escapes is the world's leading members-only online travel deal company, offering inspiring travel experiences and hand-picked offers to over 75 million users worldwide across our family of brands.
Operating in 21 countries across Europe and Asia, Secret Escapes Group continues to grow and establish itself as a world-class business, dedicated to giving our members the best range and value in luxury travel deals at low prices.
Founded in 2011, and following a number of acquisitions, we've doubled in size over the last 3 years and have a social-media following the size of a small country. We're a diverse and inclusive bunch of individuals from different backgrounds and with varied interests, but the one thing we all have in common is that we're good people (even if we do say so ourselves!)
Things you'll be working on:
Promote Secret Escapes to key Hotel Groups within the EMEA Markets, existing and new
Develop strong relationships with key decision makers at multiple levels of the partnership organisation (Revenue Directors/Sales Directors etc)
Create & Develop strategies that clearly displays the complexity of the accounts
Manage the process and performance between our hotel partners and external channel managers
Be the owner of these key partnerships and facilitate strong relationships between the Internal regional and external stakeholders involved in the portfolios
Gather feedback, monitor and support internal and external stakeholders in managing the portfolios in order to further drive improved performance
Analyse and evaluate portfolios on a global/national and local property level on a quarterly basis conducting quarterly and annual business reviews
Getting results through strategic planning and executing on regional business plans in partnership with our partners
The deal breakers:
3-5 years' experience in a Global Key account management or strategic account management role within the travel industry working with hotel groups or 7-10 years experience in a Senior Contracting Role
Strong knowledge of the structural set up of hotel chains and a "black book" of key contacts is preferable
Proven ability to work with internal and external stakeholders across several markets and regional geographies
Tech-savvy with the ability to communicate technical product features effectively
A history of driving actions and achieving results, leading initiatives and projects to completion
Ability to build and support reporting requests, including the manipulation of excel data. Tableau experience a bonus.
Excellent MS Powerpoint and Excel skills are a must, along with a clear and confident presentation style. A history of public speaking is preferred.
Knowledge and experience of using Salesforce is preferable but not essential
Ability to travel globally for work
And you are…
Someone positive with boundless energy and commitment to your work
Able to handle multiple projects simultaneously in a dynamic environment
Autonomous, self-driven and self-motivated
Creative with problem solving capabilities
Someone who exceeds people's expectations on a regular basis
Results driven with a 'can do' approach at all times
Attention to detail, accuracy and speed
Organized, thorough and methodical approach to work
We are an equal opportunity employer:
Diversity and inclusion are important to us at Secret Escapes and we encourage a culture where everyone can be themselves at work. We value and actively seek out a richly diverse range of talent and our policies ensure that every job application and employee is treated fairly, with equal opportunity to succeed. All applicants will be considered for employment without regard to any characteristic protected by law.